Visit the BAYTOWN UNDERGROUND Now!!!
HYPERNAUT BIO PAGE!!!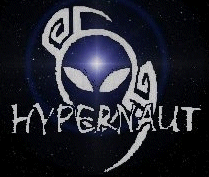 What???!!! What's that you hear? Metallic, groove-based , electronic hard rock music blasting loudly from a run down warehouse in Pasadena, Texas? Pasadena, Texas???!!! Hey!!! Wait a minute! Urban Cowboy?! John Travolta?! Gilley's???!!! That's right boys & girls. The once proud Urban Cowboy Capital of the World has been overun by a new breed of Hyper-Humanoid Musicians ready to knock the Houston-area music scene on it's collective ass! Hypernaut has created a perfect hybrid of old school and nu-metal, electronic techno-crunch and pure adrenaline-based live imagery! A self decscribed "LimpZombieSabbathSmack", these guys are for real!!! Already a huge crowd draw (often bringing more people than the headliner), Hypernaut sets it's site on the future. Conquering the World one venue at a time!!!
Fronted by the "CyberDevil", SLAM MASTER DEE who's incredible vocal range and control will have you believing he is possessed by demons. Half hipster, half hellspawn, The "D" MAN's stage persona is as wicked as it gets! Acting out every song as if he were part of some neo-gothic, underground, tragic freakshow!!!
Guitarist MAD MARV the MANGLER lives up to his namesake! An incredibly powerful figure that crunches, shreds and mangles anything in his path, leaving a trail of destruction in his wake. Mind-piercing solos and bone-crushing rhythms will drive you to your knees and leave you begging for more!
TURTLE! Power drummer extraordinaire! A man-beast unleashed. Steady, rapid-fire beats and syncopated chops are the backbone of the HYPERNAUT sound! A sound powerful enough to wake a sleeping Goddess! So intense it shakes the very foundation of Hell itself!!!
HYPERNAUT debuted OCTOBER "Friday The 13th", 2000 during a full moon at TEJAS BILLIARDS in South Houston, Texas. The band brought the bar one of it's highest grossing nights, second only to the Super Bowl Party, 9 months earlier!!!
They quickly followed their debut two weeks later with an opening slot at SKREWPIPE'S Halloween Weekend Jam at BOBBY'S EXTREME. Although, it was about a 40+ mile drive from their hometown of Pasadena, they managed to bring a crowd that dwarfed that of the headliner's fans!
Several personal problems (not with each other) have slowed progress, but not killed the band. While an early 2005 regrouping fell through we are still planning to reunite within the near future!
Conquering the World... ... one venue at a time!
Visit the BAYTOWN UNDERGROUND Today!!!